Par Excellence Redux: The Front 9
Jul 7th–Sep 26th 2021
The Front 9 is closed Sept. 26. Book Book a Tee Time today for The Back 9 (Oct. 12 - Jan. 2). Mini golf includes admission. It's a "hole" lot of fun!
For course previews, press segments, activities, and more visit our Museum From Home page.
Details on our COVID-19 safety precautions can be found here.
In a unique collision of recreation and art, the Museum commissioned a two-part miniature golf course of playable works of art by local and national artists. This course is a reimagining of the wildly popular 1988 exhibition Par Excellence at the School of the Art Institute of Chicago. A public call for proposals for area artists, designers, and architects attracted diverse artists who designed holes of varying difficulty, including the museum's Teen Art Council. The custom-built playable miniature golf course will be split into two exhibits: The Front 9 (Summer) and The Back 9 (Fall). Designed to use the museum's galleries with COVID protocols, the two 9-hole courses promise an unusual twist on a familiar pastime. From social justice to the occult, the course includes a surprisingly varied collection of themes and forms, including a fortune-telling hole and one that challenges players with an optical illusion.
The Front 9 Artists:
Julie Cowan, Benjamin Good, Neil Good & John Serafin; Current Projects; Andrea Jablonski & Stolatis Fab LLC; Annalee Koehn; Latent Design; Jesse Meredith; Gautam Rao; Robin Schwartzman & Tom Loftus (aka A Couple of Putts); and Elmhurst Art Museum's Teen Art Council.
Members get 25% off mini-golf reservations whether with friends, family, or a favorite foursome. Not a member? Join/renew today
Advanced registration is available for private event rentals. This is the perfect setting for kids' birthday parties, company retreats, weddings, and more. For a limited time, private rentals receive a $50 gift card for Brewpoint Coffee. Learn more here and send inquiries to events@elmhurstartmuseum.org
The exhibit will pay homage to Par Excellence (1988) conceived by Chicago artist Mike O'Brien with a special display of ephemera, newspaper clippings, photos, and a recreated hole by designer Annalee Koehn. The original exhibit sold out daily and found its way to the pages of the New York Times, Wall Street Journal, People Magazine, CNN, and the Chicago Tribune among others. The course went on tour to downstate Illinois before returning to Chicago as a rebranded commercial miniature golf course called ArtGolf.
Artist-designed golf courses are now a popular addition to many Midwest museums such as the Walker Art Center, The Sheldon, and Nelson-Atkins Museum of Art, but Par Excellence is widely believed to be the first.
Par Excellence Redux is curated by Colossal's founder & editor-in-chief Christopher Jobson.
Presenting Sponsor: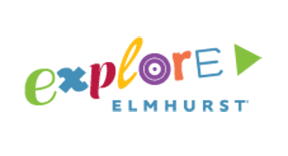 Media Partner:

Front 9 is sponsored by: Anonymous, Brewpoint Coffee, DIT Workshops, Dugan & Lopatka, Elmhurst Park District, Howard & Howard, Lakeside Bank, Kilwins, Pints, Reconciled Solutions, Schwartz Injury Law, Superior Ambulance Service, TCF Bank, Wangler and Company, and the Museum's Development Committees.